Wood floors come in many types. In addition to traditional woods such as oak, birch, cherry, walnut and maple, many homeowners are now choosing bamboo for it's durability, sustainability and affordability. While technically not a wood but a grass, bamboo cures to a hardness that rivals oak, and grows quickly, making it an environmentally sustainable product. You always have options, especially when your local hardwood store like us is offering so many different varieties of wooden floors.
Once you narrow down your wood choices, you'll need to decide whether you want to buy unfinished wood planks or wood that is factory finished. You can customize your stain and finish by purchasing unfinished flooring and having your installer applies the finish to your specifications.
Our professional staff members will help you to make that choice. Stop by in our store at 3100 N Elston in Chicago or call us at 773 279-9100
Cleaning your wood floors is easy. Regular maintenance includes sweeping with a soft bristle broom, and vacuuming with the beater bar turned off. You also should clean your floors periodically with a professional wood floor cleaning product.
We carry professional grade cleaning products by Bona & Loba.
Call us (ph.: 773-279-9100) to order yours today.
There are other steps you can take to maintain the beauty of your wood floors.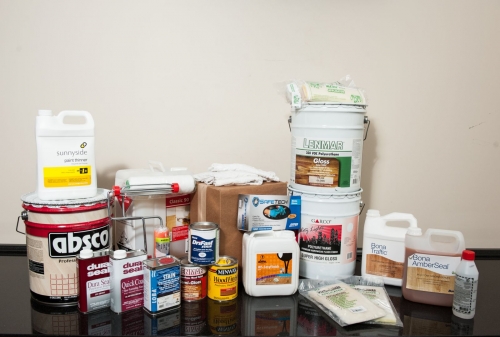 Experiment to find the right products for your floor type.
There are a lot of products that market themselves as hardwood floor cleaners, but don't measure up. A good place to start is finding out what your floor manufacturer recommends. This way we are highly recommending to buy your hardwood cleaning products at the Flooring store such ours. Our professional will recommend what cleaners you need for a specific floors type .
Clean hardwood floors with a mop. Mix a few drops of Bona Hardwood Cleaner with water. Wring out the mop extremely well and then run the mop along the grain. We carry a great selection of hardwood cleaning products, so please don't hesitate to stop by in our store to get the products for your floors.
Spray the polish on the floor or apply it to a cloth, according to package directions. Use a feathering technique to wipe the polish in a semi-circle. Overlap your feathering strokes for a streak free finish. In our store on 3100 N Elston Ave, you will also find a great selection of Hardwood Cleaners from different brands.
We are located on 3100 N Elston Ave ., Chicago IL 60618