We're continuing to see the wide boards—wider and longer. While wide boards have been popular over the last couple of years, the really long boards are starting to show up a lot. Aesthetically, I think it's beautiful, but personally, I'm interested to see if that's something that people can sustain because now you have to ship those boards not just from manufacturer to the retailer but from us to our consumers. Our consumers have to be able to get them home.
The matte finish is continuing to be popular as consumers are kind of on their phones all the time, everything until sleek and digital all the time and the matte floor trend continues to reign supreme as people want to continue to incorporate natural products and create the sense of spa-like sereneness in their homes and things like that. We continue to see the muted color palettes — think sea-salt whites, the natural blondes are still really popular, the natural color of maple. Gray floors have been popular for so long, but we are starting to see a shift back to a mid-tone brown.
I'm starting to see the shifting and softening of distressed flooring—the super distressed kind of rustic feeling where it literally looks like people beat their floors with chains. We're starting to see that soften up and people are really just celebrating the natural grain pattern, which I think is all part of that wellness trend that's so big right now.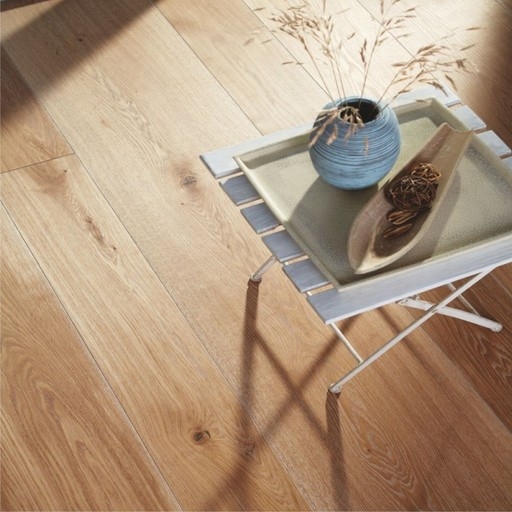 Cleaning your wood floors is easy. Regular maintenance includes sweeping with a soft bristle broom, and vacuuming with the beater bar turned off. You also should clean your floors periodically with a professional wood floor cleaning product.
We carry professional grade cleaning products by Bona & Loba.
Call us (ph.: 773-279-9100) to order yours today.
There are other steps you can take to maintain the beauty of your wood floors.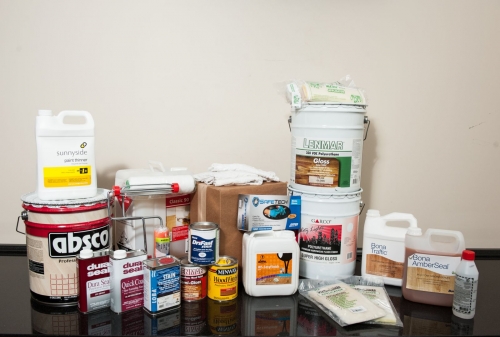 As I mentioned above, bringing in 30-degree air at 50 percent RH, then warming it to 70 degrees causes its RH to drop to 10 percent. To raise the RH, we need to add moisture. The American Society of Heating, Refrigerating and Air-Conditioning Engineers (ASHRAE) publishes charts showing moisture and air relationships. Using these charts with our example house from above, we need to add about 3.3 pints of water per hour to raise the inside RH to 30 percent. If the ventilation rate is higher, we need to add more water. If it's colder or warmer outside, the amount of water needed changes. This same house, if located in Duluth, Minn., would need almost 5 pints per hour during common winter conditions. If we want the RH to be even higher, we need to add more moisture. The colder outside air requires more moisture. Higher ventilation rates require more moisture, and higher target indoor RH levels require more moisture. Since the ventilation rate and moisture needed are related, an economical approach is to reduce ventilation rates, then add moisture. Moisture is added to indoor environments from normal household activities and use. When this moisture is not sufficient to meet the needs, a humidifier can be added. A family of four contributes about ¾ pint of moisture per hour. This number is likely smaller than that shown, because people aren't home all day and don't clean every day. So I would suggest ignoring household sources when determining moisture needs. Adding moisture then boils down to using humidifiers. Humidifiers can either be stand-alone or attached to a central forced air furnace. Typical residential systems can provide up to about 6 pints per hour. This is an important number: 6 pints per hour, maximum. More than 6 pints per hour are necessary to get to 40 percent RH when it is real cold outside in a relatively tight, 1,800-square-foot house. We can't even get to 30 percent RH in a somewhat leaky house when it's moderately cold outside, or in a larger, moderately tight house. (By moderately cold, we mean the kind of weather in South Carolina. By real cold, we mean the type of weather in Minnesota or New Hampshire.) To make matters worse, moisture output from some humidifiers depends on furnace air temperature. According to Aprilaire, a large manufacturer of whole-house humidifiers, their humidifiers produce a maximum of about 3.6 pints per hour when connected to a heat pump. With that number, we can't even get to 30 percent RH in a moderately tight, moderately sized house in a moderate climate